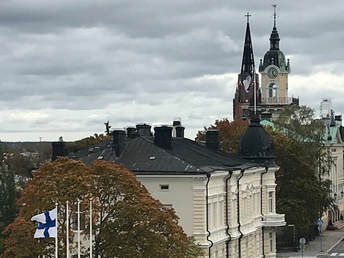 This is our home street in Pori. Most of the buildings was built in 1840-1900. PikkuParlamentti - Little Parliament has been built in 2018.

Enjoy you stay in Pori

When you are looking for a comfortable accommodation in city center of Pori, welcome to Little Parliament (PikkuParlamentti in Finnish).
Little Parliament is located in historical, old Pori. It takes just a few minutes drive from Pori airport, railway or bus station.
Little Parliament is fully furnished NEW apartment with A/C in river side Kokemäenjoki. It is suitable for 1 to 4 person/35m2. There is a bed for two (160cm) and a very good pull out couch for two adults. You can relax in own sauna when ever you want and sit on the glazes balcony to cool yourself after sauna if needed. In summer time you can have for example a breakfast in the same place or just take a nap on the balcony`s sofa! Bed linen and towels included. Little Parliament is suitable for couples, families and co-workers/company housing. Cleaning service is available for extra charge.

When you step out of the apartment, you will be just by the river. Pori Art Museum and Satakunnan Museum is located in neighborhood. Go over the bridge and there is a beautiful Park Kirjurinluoto with several facilities like cafés and restaurants, a big playground for children, a beach, a miniature golf, a disc golf course and a summer theater. In July 2019 there is 54th International Pori Jazz Festival! Kirjurinluoto is a part of the Pori National Urban Park. Read more about Kirjurinluoto Park here:

Please, make a reservation contacting us by email info@pikkuparlamentti.fi
For any other requests, please contact us!